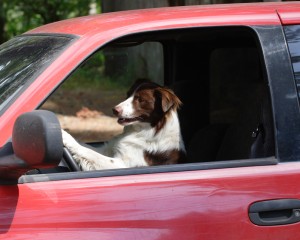 One day in September, it was quite hot here, and I was walking to my car when I heard a dog barking nearby, and decided I would walk by and just make sure the dog looked ok and was not overheating.  Now, before I go on, it is perhaps important to say that I am not one who believes dogs should never be left in cars.  Quite the opposite, I believe it is great if people take their dogs with them, and so long as they take care of the dogs and the dogs are happy about it, I absolutely support taking your dog with you.  I believe dogs can be very comfortable and safe in cars and am outraged at the growing movement to vilify anyone who leaves their dog in a vehicle.
I determined that the barking was coming from a minivan parked in the sun, and the rear windows were open only a few inches.  The dog appeared fine from a distance, but I was still a little bit concerned, so I walked a little closer, and I was pretty sure that the engine was running, presumably so the air-conditioner could work, and everything seemed peachy.  At about this point, as I was about to depart, I heard a woman's voice very hostilely shout, "He WILL bite you."  I turned to look, and there was a lady, talking to some other people a few cars away, glaring at me.  I smiled at her, and said, "Hopefully not, since I am ten feet away and he appears to be safely contained…"  She scowled and said, "If you get any closer he WILL bite you…"
I understood her anger: she assumed I was another busy-body who was coming over to pass judgment on her without knowing the first thing about animals or her situation.  She was afraid I was going to call the cops or animal control or PETA. She had no way of knowing that I had no intention of doing anything unless there appeared to be a genuine and immediate problem, and that if there was a problem my only interest would be in helping.
This exchange struck me as a perfect example of one of the truly harmful things that the AR movement has done: it has turned us all into adversaries.  She was so worried about someone attacking her that she could not imagine or appreciate that maybe I was an ally just walking by to make sure her dog was fine.  Not only have they divided us into little factions that are ineffective politically, they have prevented us from working together to make the world a better place.  This hurts us all, most acutely the animals…