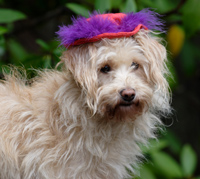 Many people react strongly to a pet in clothes.  "Demeaning, stupid, absurd, ridiculous…" 
The basis for this reaction is primarily the notion that the animal is embarrassed by wearing the clothes, and the owner who put the clothes on is irrationally anthropomorphizing an animal into a child or a Barbie doll. 
Let me suggest an alternate theory—the people who are bothered by this are actually the ones anthropomorphizing: an animal does not care about how he looks in a sweater.  He is not embarrassed.  He has no emotional reaction to the idea of wearing a sweater whatsoever. 
There are several reasons a person might decide to put clothes on a pet.  Let's consider them individually:
1.       Socialization: responsible animal owners devote considerable time and energy to increasing their animal's level of comfort in the world.  Part of doing this involves exposing the animal to a wide range of sensory input.  Wearing clothes or glasses or a hat is a new experience for an animal, and getting them used to that experience increases their temperamental stability.  I have trained many animals to happily wear clothes, and in every case it has been well worth the time in terms of their psychological development.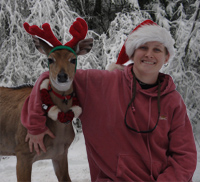 2.       Animal gets cold: I am really not sure why wardrobe detractors do not imagine that dogs might get cold, but they do.  Particularly small dogs, or dogs with little coat, or in the rain, and having an insulating layer can be very effective in helping the dog to stay warm. 
3.       Protection: foxtails, thorns, sun, and many other environmental hazards can be significantly ameliorated in certain situations by using an appropriate jacket.
4.       Owner thinks the animal looks cute in clothes: personally I think this reason is a little silly, and I generally think animals are beautiful enough without clothing, but if a person derives pleasure from putting a dress on their poodle, and it does not harm or bother the dog, why is that objectionable?
5.       The animal likes wearing clothes: I think most animals are indifferent, but there may be some who really like the feeling or the attention.
There is little question that most clothing made for animals is absurd, and I am not about to start dressing all my pets, but I am going to continue training them to wear clothes, and when weather or circumstances warrant clothing I will happily put it on my pets.  Certain people will assume that I am simply a shallow, silly, sartorially obsessed ninny, but you will know better.  I am a responsible animal owner who is doing what is best for the animal regardless of what is politically correct…