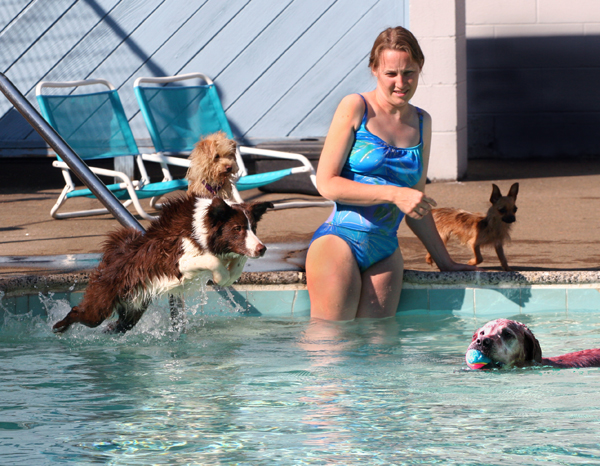 I am a passionate advocate of swimming your dog.  It is one of the very best all around exercise activities, it is a great way to cool them down on hot days, reduce parasites, keep your dogs clean, and generally have a great time.
The vast majority of dogs will learn to love swimming.  Some will take longer than others, and a few might never come to love it, but for most it will become a favorite activity and is well worth the time spent introducing.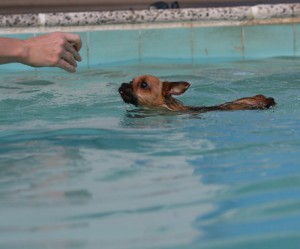 First of all, there are a few things to avoid:
Do not take your dog to the water—the first few times—unless you are ready to get wet.  I am amazed how many people I see on the beach trying to get their dogs to swim while the owners are wearing shoes and are running away from each wave.  You dog looks to you for leadership, and if you act like water is something to be avoided, they will too!  So make sure that, before you get anywhere near the water, you have removed your shoes, rolled up your pants, put on a swimsuit, or whatever else you need to do so that they will see you happily and enthusiastically entering the water.
Do not force your dog—do not pull, push, drag, shove, or trick your dog into the water.
Try to avoid the accidental entry.  Do not start out on a slippery dock, or a steep edge, or in a location where the surface of the water appears solid and your dog will try to run onto it and sink…
A few times before you head out to swim, take your dog to shallow water to splash around.  Warm, fun, shallow, where you can both run and play fetch and generally have a great time in the water.
Next, create an optimal situation for swimming:
Pick a warm day. I know you may be excited, but rushing and trying to get them to enjoy going into the water when they are cold and uncomfortable will backfire.
Select a great location:

Select water with no current or waves.
Pick reasonably warm water.
Look for a place with a gradual slope into the water so that they never have to step off a precipice—they just walk forward and find themselves swimming.

Easy egress: a dog that feels trapped in a pool or other body of water is prone to panic and not want to get back in the water.
In a perfect world, you find a pond that is narrow, so they do not have to turn around to exit, and can just swim a few feet across.  But these are hard to find, so if they have to turn it is not the end of the world.
Take along a water loving dog, or a couple of water loving dogs. Seeing other dogs run and jump into the water can help your dog see that it is fun and not frightening.
Have treats, floating kibble, and a few favorite toys in your pockets.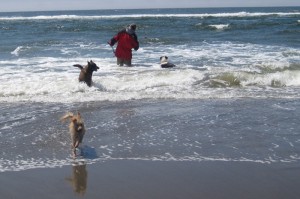 When you first arrive, head down to the water, enter right away, and start playing in the shallows.  Go out a few feet past where your dog can still stand, and lure him with whatever he finds most enticing.  Ideally you want him to swim just a stroke or two, get rewarded, and then swim back to solid ground so he know he can. Do this a few times, and then start gradually increasing the distance.  And really, that is it—once they are swimming comfortably you just start gradually increasing the distance and you are off to the races.  You may want to carefully introduce them to current and waves and dock diving, but essentially once they can swim these are all easy if you make them fun and go slowly.
Some dogs swim too vertically—instead of kicking with their rear legs and moving forward, they try to swim up and out of the water and their front feet come out of the water and splash and they get nowhere.  The key to helping these dogs is to motivate them forward—throw a ball or a treat so that they are focused on that and are pushing to get to the reward, and they will accidentally start moving forward, and will teach themselves that forward motion works better than vertical…  If necessary, you can support their rear slightly and help them to move forward.
It is possible that with some dogs, even after doing everything above, they will just not take that last step.  If this is the case, depending on your dog's attitude, it may be time to force the issue:
Find a creek crossing where your dog will have no choice but to swim or be left behind, and wade across.
If your dog is of a size that he can be lifted, carry him out past the point where he would have to swim, face him towards shore, and gently set him in the water, still supporting him somewhat, and let him swim to shore.  Repeat this a few times.  Try to praise when he is swimming, not when he gets to shore.
Find a pond where you can swim out and make them feel like you are leaving and call them to come to you.
I have had many dogs that needed no help—they just ran in and started swimming.  Some have taken a few trips, while a few have taken up to a year to really start loving water.  I have only had one dog over the years that never really came to like swimming.  He liked splashing and wading, but not swimming.  But in fairness, I do want to point out that the point of this is for your dog to have fun, so if your dog does not enjoy swimming, move on to another activity.  But most dogs, if you are a little patient and enthusiastic, will come to love swimming…