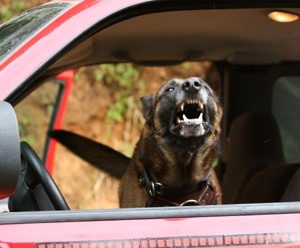 If addressed early it is fairly straightforward to teach most young dogs to relax quietly in the car. However, I am frequently asked about fixing this problem in adult dogs that had spent years rehearsing the behavior, and it is then somewhat more challenging to resolve.  Offering suggestions on how to handle this behavior is complicated because there can be so many different reasons the dog is barking in the car and the ideal solution is so dependent on the motivation and the individual psyche involved that I am not sure a general solution is meaningful, but here are some general techniques I would recommend:
First of all, recognize that this is a behavior/training challenge and that you will need to focus on it for a while and make a genuine effort to fix the problem.  You cannot think about this problem only when it is happening and expect to solve it…
For each of the following steps, I would exercise the dog before the training session so you are not fighting excess energy.  And if your dog is getting out of control you have gone too far too fast…
Figure out why the dog is barking—is it genuine aggression, insecurity, fear, a belief that you want it to bark, guarding behavior, etc. This will likely alter not only what you do, but the energy and spirit you apply—with an insecure dog you may be bolstering confidence, with another dog you may be correcting more, etc.

Figure out precisely what behavior you DO want—no barking, a woof or two then silence, barking ok until you say quiet, etc.

 

Ideally figure out a behavior that is emotionally or physically incompatible with barking—holding something in his mouth, lying down, etc.

Particularly important for many dogs is that you repeat a behavior that limits the emotional cascade—they start working themselves into a frenzy, and every time they get to a certain point you interrupt the pattern and create calmness so that eventually, regardless of what behavior they are doing, they learn to arrest their progression towards frenzy.

 

Often a quiet downstay works for this, but you need to be observant and start the down as soon as they get to a certain point, and make them hold the down until they have returned to a calm state—it is not productive if they simply lie down but remained frantic. Ultimately you care more about training them to maintain the correct mental state then you do about a particular behavior in this case.

Train the desired behavior away from the car to a high level of compliance. For example, I would probably train a solid down and downstay and a quiet at home before I moved to working on the issue in the car.

Train various behaviors in the car at home. Including the desired alternative to barking. I would include some static behaviors (eg, a ten minute downstay) and some active behaviors (eg. spin, wave, etc.)

Train various behaviors in the car at home with you out of the car, you in the driver's seat, you in the passenger seat, you in the back seat with the dog, etc.

 

Your dog should be able to get in any part of the car on command, stay there, and do what you ask wherever you are. Repeat with windows and doors open and closed.

 

Have the dog get out and do a few behaviors, then have him load back up and do the same behaviors.

 

He should learn that the car is another place where he has to be obedient and mindful…

Have a friend come over and repeat the above with your friend nearby. Do this with several friends and have them come to the window and give a treat or toy or praise.

 

Have them give a command and reinforce it. Etc.

 

Go somewhere where the dog is likely to be slightly stimulated, but not overly so, and sit in the car and have a nice training session.

 

Do various behaviors with you in the car, including whatever behavior you are hoping will be the new alternative to barking. Then repeat the above so that your dog can do whatever is asked of him in the car regardless of where you are.

 

Have some friends come with you to somewhere slightly stimulating and have them come over out of the blue and say hello and give treats while you work with your dog.

Gradually get closer to stimuli so that dog has to ignore more and more while doing what you ask.

 

Once he can handle any stimuli, start getting yourself further and further away while reinforcing the correct behavior or asking for other behaviors.

 

Go behind walls so your dog cannot see you and make sure they can stay quiet without you in sight but go back and praise or reward their correct behavior. Over time diminish the amount of help you provide.

Once you are confident that your dog understands what you are asking, I think a water squirt bottle can be very effective for correcting inappropriate barking…

Purchase a 2way radio with a built in baby monitor function so you can always know as soon as your dog barks and can either use the radio to interrupt him or can return to the car to correct him.

Have the dog eat, sleep, or relax in the car at home.

 

In essence use the car as a crate for a while so it ceases to be novel.
Depending on the dog, and keeping safety in mind, I might also consider: 
Using a skilled friend as bait, opening the door just as the dog gets excited and letting them out.

 

(Be careful that this is not timed as a reward—bark and I let you out, but rather a sort of a shock—you think you are safe to act however you want cause you are in the car, but BOOM the door opens and you are out in the real world…)

 

Leave them on a wait with all the doors open so they do not feel so bolstered.

 

Have lots of people get in and out of the car giving them treats.

 

Spend a day riding around on a bus with them.

 

Have people get in the car and ignore them whenever they bark.

 

Drive to a mall parking lot and take a nap in your car with your dog.

 

Calmly and quietly correct any noise—use your calmness to lure your dog into relaxing with you.

 

Go to a relatively busy location and practice sending your dog to run and get into the car from a distance.

 

If there are lots of people around when they enter the car, it is unlikely that they will suddenly start barking, and so they will get used to the picture of being in the car with people around.
All of the above focus really on conveying to your dog a few simple ideas—the car is no different and you need to listen there, the car is a relaxed place and remains relaxed when others approach, people who do approach are friendly, you are responsible for staying in control of your emotions and behavior.  Perhaps the most important piece of advice on this topic is that it is a training issue like any other that you can work on and fix in a rational manner.  Too many people never really try to fix this behavior except in the moment when the dog is too worked up to learn anything, and then they ignore the problem until the next time.  Set aside some time to fix this problem, and you will see results…