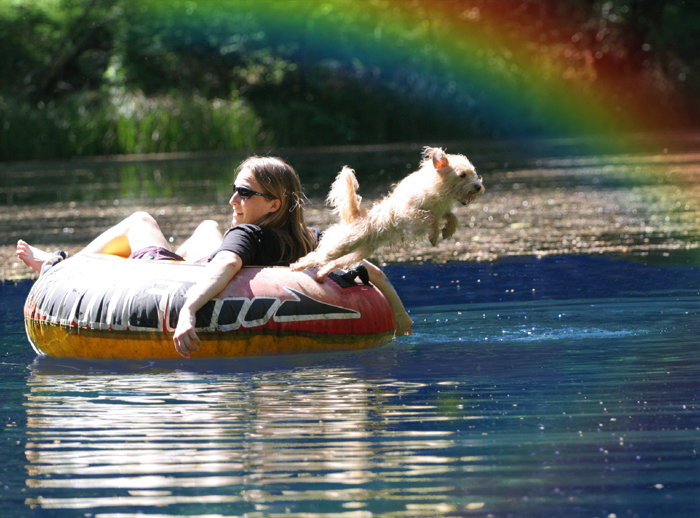 You have probably read the "Rainbow Bridge," or one of its several variations.  Each of these is a lovely story about where your pets go after death—a beautiful place, full of all the things they love and absent any possible source of discomfort, where someday we will rejoin all of our past friends and romp in beautiful meadows where all animals love and help one another.
I do not want to be a curmudgeon, or diminish anyone's delight in a parable; however, for me, such saccharine tales insult and trivialize reality—as though the wonder we share with our animals while they are alive is somehow not enough and we need to make up a better story; as though we need to turn our animals into vapid and immortal Disney characters in order to love them rather than simply loving them as they are.
Whatever happens to them when they die, I cannot know or alter, so I focus on what I can control—ensuring that their time in my reality is the best it can be.
One of the greatest lessons our pets can teach us is to live in the moment.  It is amazing how little my dogs seem to worry about the mortgage, or taxes, or growing old, or death.
Want your dog to have a perfect day at the beach? Take him.  Want him to bask in front of the fireplace with a perfect toy to chew on?  Make it happen.  Take him to the snow, go on a hike, teach him a new trick, rub his belly. You get at most a few thousand days with your dog, so make them great.  Your dog has simple wants, and it is amazing how many of them you can make come true with just a little effort, so make his life wonderful. Give him beautiful meadows in life, not in death.
I imagine some of my readers will protest, "the Rainbow Bridge makes me feel better, there is no harm…" and that is fine, you are obviously welcome to believe in whatever fairytales you find comforting, and I know many people have found solace in imagining their animals at the Rainbow Bridge.  I for one am going to delight in the real living animals that I find magical enough. And when they are gone, I will grieve, but ultimately I will remember the lifetime we shared, and that will be more than enough to fill me with joy.