Click Here to Meet the Animals
The Story of Making of the Greatest Music Video Ever from the Talented Animals Perspective
A few years ago I was in a meeting about an upcoming television show when the director took me aside and said to me, "My brother is in a band, and I have an idea for a great video that would need animals, could we get together and talk about this sometime?"  I grinned and said sure, knowing that everybody in Los Angeles has a relative in a band, and the odds of anything ever coming of that conversation were slim…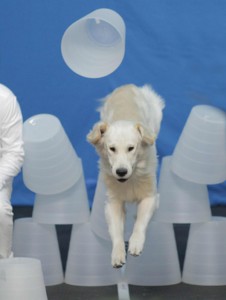 It was over a year later that Trish called and suggested that they were getting close and would like to set up a meeting to brainstorm ideas.  She casually mentioned that her brother Damian was the lead singer in the band OK Go, the most downloaded band in history, and I 'might' have seen a few of their previous videos like the ubiquitous treadmill dance…
Damian explained that they had been dreaming of this video for years, but that so far they had been unable to find an animal trainer with the right combination of skills, experience, and unfettered creativity to help them succeed.  "We want to make a video in which the dogs are the stars, Damian said. "We want the band members to support the dogs and dance with the dogs, and we want it to be magical and charming and something that has never been done before. No canine 'agility', 'freestyle,' or 'obedience.'  And no cutsey tricks or circus acts.  Something new.
"No problem," said I. "The trainers and animals at Talented Animals are the best in the world, and if it is physically possible, we can do it."
For the next several hours we all sat around throwing out ideas and getting more and more excited: we had come up with some really great ideas that seemed achievable in a short of amount of time and we all thought would make a great video. Then Damian said something that sent a chill up my spine: "Oh, by the way, this will be done in one take, with no cuts…" Now for those of you who have never worked an animal on film, we use cuts and optimal camera angles for everything.  They are the tools that let us succeed.  Without cuts, the animals would have to all work at the same time with their trainers far away, and we would need to get each dog and trainer and bandmember and crewmember to nail every single behavior all in the same take.  Not bloody likely.
For the next several hours I patiently explained why we needed cuts in this video.  That we could do many more things with cuts than without, that we could nail the video in a few days because each dog would do their behavior in isolation and would only have to be perfect for 10 seconds at a time, but that 12 dogs and a goat could not all work together without a mistake for over three minutes straight.  And Damian patiently explained that one of the things that defined this video was that it was not going to rely on cuts or tricks or camera magic—it was going to be a continuous dance without cuts and we would have to work within that constraint…
Over a year passed and we were together again for two intense weeks of choreography and planning. Three dogs and two trainers sat in a small warehouse in downtown LA with the band, and Trish the choreographer, for two weeks of nonstop, delightful brainstorming.
Another year passed as we all worked to get schedules and finances and everything else to come together, and finally in the spring of 2010 we were ready to get started.
Then we needed to select ideal dogs, find a location, and so much more…  After looking at several options, we decided Oregon was the best place to film this video: beautiful, no sales tax, excellent production resources, inexpensive housing, perfect summer weather, less bureaucracy, and of course Talented Animals has one of its main facilities in Oregon.
The Oregon Film Office was extremely helpful in finding housing for the band, recommending skilled and flexible crewmembers, and best of all securing an amazing location to film the video!
We had only four weeks total to make the video from beginning to end: two weeks to train the dogs, one week to rehearse with the band, and one week to film it.  Or so we thought!  Once we started, we discovered that much of the first two weeks needed to be spent figuring out the trainer choreography!  We had 12 trainers, two furniture movers, 12 dogs, one goat, 38 buckets, and a bunch of furniture, all of which needed to move around and be in the right place at the right time without anyone stepping in front of camera.  We ended up with stuffed animals, spreadsheets, flow-charts, and recorded audio instructions, and for many hours we tried various configurations until we finally found one that worked.  And then we practiced and practiced.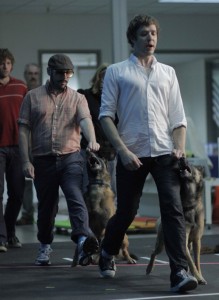 Of course, at the same time we were training the dogs.  Most of the behaviors were not that challenging to teach, it was the transitions and the positioning that were complicated.  And it was essential that the dogs were at all times having a truly joyous experience, so there were lots of breaks to go run in the field, take a nap, or splash in the pool.
Then Damian, Tim, Andy, Dan, and Trish arrived… Since we had been rehearsing without them we needed to learn how to work with band actually dancing their parts, and they needed to learn to work with the dogs. The band and Trish are about the most wonderful team to work with that you could ever imagine.  They are creative, collaborative, generous, imaginative, kind, and just all around fun. They are also serious and consummate professionals. I hate to tarnish the "slacker-rockstar" trope, but these guys work harder than you can imagine, and bust their asses to make their videos perfect, and we had no intention of letting them down!  We ran through the whole routine a couple of times for them with stuffed animals and then showed them the pieces with dogs, and while they loved 80% of it, there were several parts that were not quite as magical in execution as they had seemed in concept.  So we began tweaking those parts.  The challenge was that each person had a specific place to be at every moment, so each time we made a slight change there was a ripple effect.  Suddenly people were on the wrong side of the stage, or could not get to where they needed to be to perform their next behavior, or were crashing into one another.  It was chaos again!  As the days ticked by, we kept making changes and the routine kept getting better and better.  But we were running out of time, and while each behavior was solid, we could no longer string them all together.  Finally we put them together, but at half speed, and then we began steadily increasing the speed.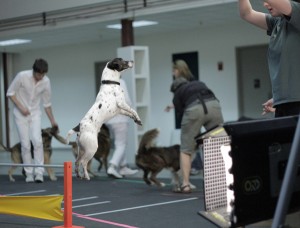 With four days left, we got out the slate and tried our first official take at full speed and with everything in place. We made it about half way before a mistake. Then again, and again, and again.  Many times we were virtually perfect, but we just got too far off the beat.  Or we would get to the end and the dogs would be out of sync with each other. Or a dog would not have time to make it to his next position.
Take 49 was our first true success. It was not perfect, but we made it to the end without any real mistakes and still in sync with the song.  "OH MY GOD," Trish whispered breathlessly, "We did it…" And every person in the room finally exhaled!
After Take 49 we got better and better.  Sure, we still all made mistakes, and there were more than a few dropped buckets, chair collisions, and the like.
At around Take 60, a new challenge arose. The dogs all knew the pattern perfectly, and absolutely loved doing it, and they started going too fast. They would rush ahead of the routine and run to their next behavior, and instead of getting behind the beat we were now starting to get ahead of it, or have dogs running onto the stage before it was their turn. Every few takes we would have to stop and do one at half speed to remind the dogs that they had to wait for the right moment before they could perform.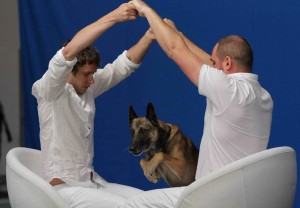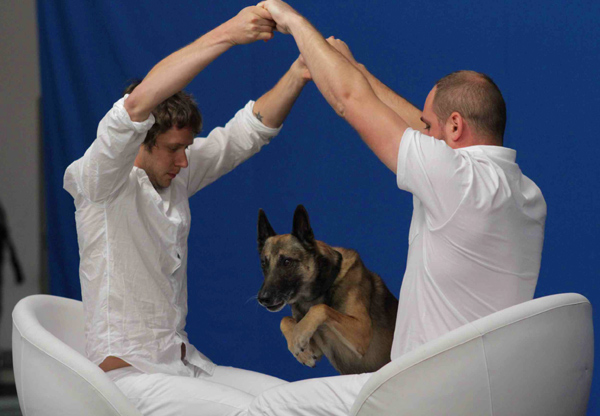 First thing on the morning of the third day, we began Take 72, and by about the midpoint, we could all feel that it was going really, really well.  Each piece had been solid, and the rhythm and timing felt great.  Everyone was fresh and looked good.  This might be it…..  As we ticked off each challenging moment it felt more and more like this might be it, and by the final scene when all the dogs were lying on tables next to the band, there was a silent vibration in the room.  None of us were moving, or breathing, as Damian finally lifted his head and said, "We got it!"  We had all agreed early on that no matter what happened, we would not erupt into a loud cheer as we did not want the energy of that to startle or alarm any of the dogs, and everyone honored that agreement, but it may have been the loudest silent cheer ever!  And the dogs absolutely participated.  We were all hugging, laughing, quietly jumping up and down, high-fiving, and hugging our dogs in absolute gratitude!  They had done it, and we all knew it!
One of the biggest challenges of having no cuts in a video comes at the end when you have to pick!  By the end, we had filmed for three and a half days and 124 takes.  We had 30 complete takes, of which 10 were deemed excellent.  And in each of these takes there were magical moments, but we could not concatenate them into one ideal, we had to discard every take except one, even knowing that in some of the discards were some of our very best work.  That is painful!  For a brief moment I thought about going to Damian one more time and trying to persuade him to cut them together into one supertake with all the best moments.  But then I watched Take 72 again, and I saw exactly what Damian had imagined years earlier—one uninterrupted dance between OK Go and 12 amazing dogs.  There was something so special about NOT having "cheated."  Somehow it came across on screen that this was real and had integrity.  This three-and-a-half minutes of unedited truth allows the viewer to connect with the band and the dogs and essentially experience the dance exactly as it was, and that is far more genuine and touching than any perfectly-polished and cut-together special effects extravaganza.
We have been fortunate enough to work on many wonderful projects: independent art films, $100M blockbuster movies, and just about everything in between.  We have worked with some of the great directors and actors in the world, and the most amazing animals. But I cannot think of any project we have enjoyed more than this one, nor any project of which we are more proud.  I hope from the bottom of my heart that watching it brings you as much joy as it has brought all of us who worked together to create it!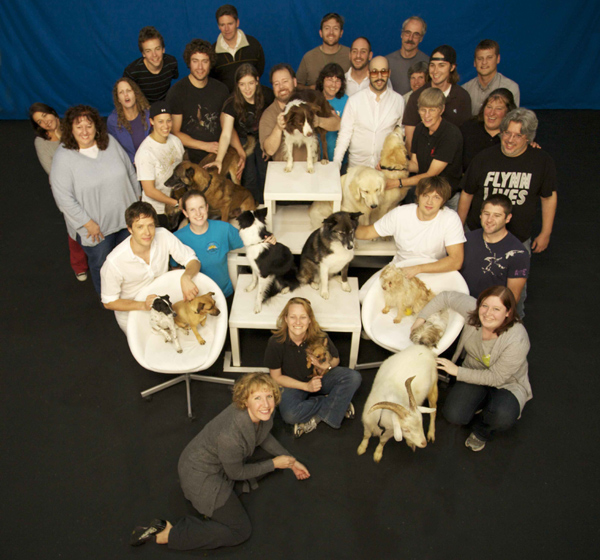 Note: It is very difficult for music videos to generate any revenue.  Making a video like this takes considerable resources: there are a lot of people and animals and equipment and props, travel, lodging, etc., and this comes directly out of the pockets of the bandmembers.  So please, if you enjoyed this song, video, and dogs, purchase the album or go see Ok Go in concert.